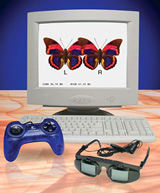 The demand placed upon your child's eyes has significantly increased over the years. Many preschool and kindergarten classes are spending 1-2 days a week in a computer session.
Children can experience a great deal of "hidden" strain on their eyes. Although schools have a basic understanding of vision, the screening performed at school cannot take the place of a complete, comprehensive eye exam.
AVC's doctors specialize in state-of-the-art techniques for early detection of focusing problems that may be missed on a school screening. A child may see "20/20," however their eyes may not focus together. Unfortunately, we have seen many children labeled as ADD or Learning Disabled, but have not had their eyes properly evaluated.
An Amazing Improvement

Mrs. Brown writes: "I am writing this letter to let you know how much Vision Therapy helped my son Jesse. In school he was having severe headaches. He didn't even want to do his homework, his headaches were so bad. So we ruled out his teeth, then had his eyes checked. We found a vision problem, and Vision Therapy was recommended. It was worth every penny. Jesse now does his homework and has no more headaches. Plus they submitted a letter to my insurance and my medical insurance reimbursed me a portion of the fees! My advice is if Vision Therapy is recommended, go for it!...read another Vision Therapy success story
3 Steps to Healthy Vision
1. Complete Vision Skills Analysis & Diagnostic Functional Testing
visual acuities
visual motor assessment
depth perception
peripheral awareness
eye tracking skills
accommodation (focusing muscles)
comprehensive computerized ocularmotor testing
visual acuities
2. Vision Therapy Program
Each therapy program is uniquely tailored to correct or improve an individual's ocularmotor weakness as well as enhancing the performance of existing visual skills.
Therapy consists of various state of the art exercises performed daily that progressively become more challenging. Then we interact the strengthened muscles with rest of your visual system.
3. Binocular Evaluation & Recommendations

After completing the visual training sessions, a "final exam" is performed to demonstrate and measure the improvement. These results are included in a specialized report containing all information concerning your child's vision. Also included, when necessary, are suggestions for the parents and educators to continue to participate in your child's academic and visual development.